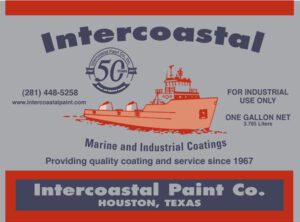 Intercoastal Paint Company Celebrates 50 years in Business
Houston, TX, May 16, 2017– Intercoastal Paint Company, an industrial paint manufacturer located in Houston, Texas is celebrating 50 years in business this year.
The manufacturer was founded in 1967 by Harvey Angelo and is currently located off Hardy Rd. in Houston, TX. Over the last two decades Intercoastal Paint became well known for their commitment to helping their customers remain competitive as well as compliant by introducing several quality Water-based products for various applications. Upon Mr. Angelo's passing in 2004, his daughters, Shaunté Angelo Lowrance and Joanna Angelo took over ownership and continue at the helm.
On the company's endurance, President Shaunté Angelo Lowrance said, "My father built this company on a solid foundation of providing quality products along with strong technical service and all with the understanding that our employees are the ones that make it all possible. It was easy to build upon that foundation and continue his legacy today."
The Angelo sisters look forward to continued growth and success in the years to come. To celebrate the 50th anniversary, the company will host a party later this year at the Heights Fire Station.
About Intercoastal Paint Company: Intercoastal Paint Company, Inc. is an industrial paint manufacturing company based in Houston, Texas. Founded in 1967, Intercoastal Paint produces a variety of coating technologies for use on ornamental iron, structural steel, valve and pipe and other industrial equipment for use in harsh or heavy duty environments.
# # #
If you would like more information about this topic, please contact Shaunté Lowrance at 281-448-5258 or email at [email protected].